The King and The Clown....왕의 남자 ( aka The King's Men)
A new Korean gay theme movie...."

King and the Clown (2005)

" ~

(王的男人)

hit 12 million viewer marks and has become the most successful film in South Korean movie history. This is a heart-wrenching stroy of a tyrant (Yeon-san), his concubine (Jang Nok-su) and a pair of court jesters (Jang-seng & Gong-gil).

"King and the Clown (2005)" Selling 12,301,289 tickets by April 18th, the Korean movie "King and the Clown" broke the former "

TaeGukGi

" record and has newly earned its spot as the most viewed film in Korea. It is interesting for to see American reporters call this movie Korean "Brokeback Mountain (2005)", a Japanese blogger call it Korean "Gohatto (1999)", and now Taiwanese importers call it Korean "Farewell my Concubine (1993)"...The King and the Clown (왕의 남자, Wang ui Namja) is a 2005 South Korean film, adapted from the 2000 Korean play titled "Yi", ("You") about a Joseon dynasty king who falls in love with the court jester who mocks him.

Director: 이준익 (Lee Joon-Ik)
Cast: 감우성 (Gam Woo-Sung), 정진영 (Jung Jin-Young), 이준기 (Lee Joon-Gi), 유해진 (Yoo Hae-Jin), 강성연 (Kang Sung-Yeon)
Official Website:-
http://www.kingsman.co.kr/
Synopsis....
The film, by director Lee Jun-ik focuses on a pair of clowns who perform comic plays, songs, and acrobatic tricks for aristocrats or commoners during the Chosun Dynasty. Jangsaeng (the husband), played by Gam Woo-sung, possesses a disarming self-confidence and disrespect for authority that seems likely to get him into trouble one day. Konggil, portrayed by Lee Joon-ki (guy who is the wife), plays the woman to Jangsaeng's man in the comic skits they perform. Two clowns living in the Chosun Dynasty get arrested for staging a play that satirizes the king. They are dragged to the palace and threatened with execution, but are given a chance to save their lives if they can make the king laugh. Konggil also possesses a certain self-confidence and grace that turns him into an object of fascination and desire for the pair's aristocratic patrons (not to mention modern-day Korean schoolgirls). The King later fall in love with Konggil... In contrast to his later relationship with the insane King, Yonsan, romantic feelings between Konggil and Jangseung are strongly implied, but never stated explicitly.

Here, can see the three relationship between the king, the husband and the wife who is also a guy.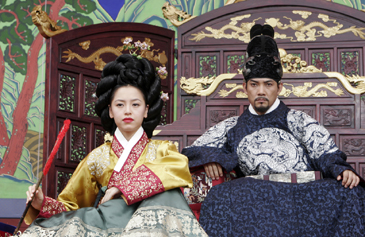 *The King and his wife*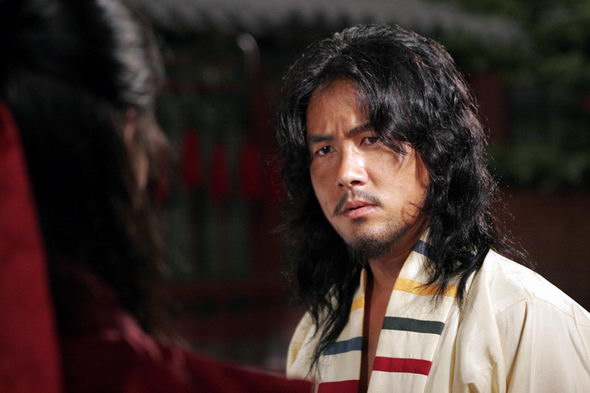 *The Husband, Jangsaeng*
*The Wife, Konggil*
TRAILER....
*credit~youtube~*