Jay 周杰伦2005最新专辑 -- 十一月肖邦 (November's Chopin) --
News!!! Jay latest album "November's Chopin" is release soon...expected release date is in November....somewhere around 5-15 Nov!! I listen to his two track oledi..n it really sound nice...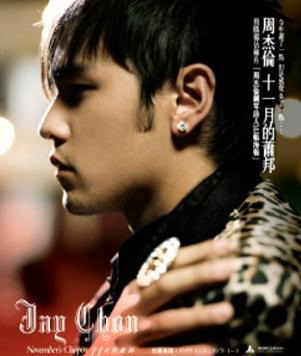 Album review.....
Taiwanese mega star Jay Chou whose fame continues to cross over to the Japanese entertainment market just as steadily as Initial D's Takumi Fujiwara finishes his races is set to return with his latest album extravaganza. His highly anticipated LP is scheduled to hit the music shelves in November with the very matching title November's Chopin . Jay has been trained as pianist ever since his elementary school days and has loved the compositions of the legendary Frederic Chopin from as far back in time as he can remember. He has even gone so far as to state that when it comes to his own songs, they are more likely to tend towards the works of Chopin than Liszt. As far as the content of Jay's new album is concerned, it has been confirmed to contain 10 new songs featuring 4 up-tempo, 3 mid-tempo and 5 of his trademark slow ballad tunes. The first confirmed track is "Nocturne", which revolves around the heartbreaking memory of a deceased lover and was written by Jay's long-time partner Fang Wen Shan. It features Jay's mellow vocals accompanied by melodious easy-listening guitar sounds. Another highlight is going to be Jay's new MV in Venice that teams him up with his good friend, female singer/actress Zhou Xun. The two smash hits Drifting + All the Way North from Jay's silver screen blockbuster Initial D have also been included on the final track list as bonus tracks. Overall, fans far and wide can look forward to another promising LP that's not only bound to feature many romantic melodies, but at the same time all of Jay's brand-new hits!
**This version comes with an exclusive VCD that includes 3 tracks and Jay's special 2006 Venice desk calendar. ** Pls support!!
......[[*e.L.i.C.e*]].........[[*LiFe ShoULd Be BeauTifuL, 美しい人*]]......