A truly touching love story --
再說一次我愛你
......
Synopsis.....
"Andy Lau takes two roles in the movie and the two of him is in love with Charlie Yeung and Charlene Choi respectively. Andy Lau plays one of the role as Doctor Ko Yuen. Doctor Ko is a very dedicated professional and tends to be careless about his home life to give way to work. Six years ago, Doctor Ko's wife (starred by Charlene Choi) died of a traffic accident and this created deep guilt in his heart. Because of this, Gao transfers to become an ambulance assistance out of the blue. Ko's life since becomes routine and dull but he remains a very disciplined professional. Ko comes to the rescue of the wounded Sam(starred by Charlie Yeung during one of his duty shift. The incident created a ripple on the ceaseless heart of Ko and he finds himself slowly drawn to Sam.
After a while, Ko discovered that Sam's husband Derek(another role played by Andy Lau)disappeared on Sam a few years ago and is still missing to the day. Derek was once a very famous hair stylist in town, he is also a very good looking guy. Derek was also the hard working type that turned his full attention to work and thus overlook his relationship with Sam. As their love and passion was gradually worn out to the element of time, Derek finally took off after a roll with Sam and never returned. Ko further discovers that Derek actually looks a lot like the six-years-ago himself. He thus sneaks into the couple's apartment and plays the part of Derek, manipulating bit and pieces of their home to bring the feeling of sweet yesterday. This inevitably brings some warmth back to the pitiful life of Sam. Ko learns that Sam has a serious illness and will not last long. He is determined to find the where about of Derek and hopes that Derek will return to the side of Sam."
Sources: KFC Cinema ~ Tuna
Yesterday juz went to watch this movie...n found out that this movie really nice...a truly touching love story....really match the title "再說一次我愛你"...It has a very meaningful story behind....if anyone has watch this movie....sure remember the story telling by Andy Lau about the grandfather and grandmother.....my tear kept falling especially the ending there.....
The most touching part is at the end....where Andy Lau telling the story between Dr. Ko and his wife to Charlie Yeung before she died...and the diary wrote by Charlie to Andy....再說一次我愛你.....**really worth of watching...frens!!**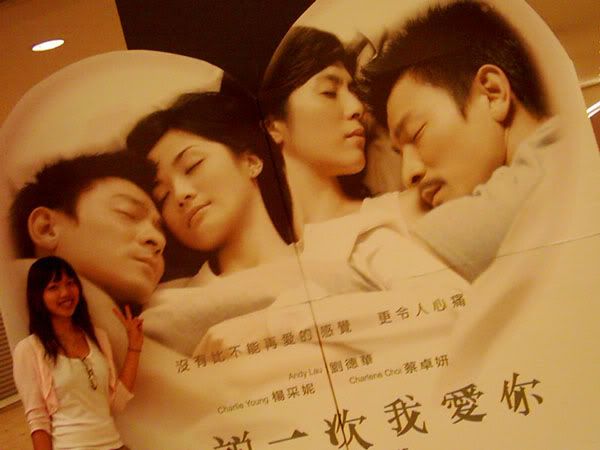 ...[[*e.L.i.C.e*]]...[[*LiFe ShoULd Be BeauTifuL*]]....